Photo of the Day
HOLLYWOOD POWER LUNCH: Charlie Chaplin, Clark Gable, Louis B. Meyer, and others...
Americana
Apollo 11 with Walter Cronkite (Anchors First Moonwalk) on CBS July 1969
John Glenn Hero - from Episode 5 of our Discovery Channel series "Rocket Science" - John Glenn's remarkable day in space.
John Glenn flew 59 combat missions in the South Pacific during World War II, and flew 63 missions during the Korean conflict. He received many decorations, including the Distinguished Flying Cross six times. After the Korean conflict, Glenn joined the Naval Air Test Center's staff of expert flyers and served as a test pilot for Naval and Marine aircraft, including the FJ3, the F7U Cutlass, and the F8U Crusader. One of Glenn's most notable accomplishments was when he set the speed record for flying from Los Angeles to New York in three hours and 23 minutes in 1957. His experience and skill made him a logical candidate for the astronaut corps being formed in 1958. In 1959, NASA selected him as one of the first seven astronauts in the U.S. space program, and on February 20, 1962, atop an Atlas rocket, he rode into space and piloted the Friendship 7 spacecraft around the globe three times, becoming the first American to orbit the earth.
FRIENDLY'S ICE CREAM OPENS – A 5 cent Ice Cream Cone and a Smile
The year was 1935. The place was Springfield, Massachusetts. The Great Depression had weakened the nation and good, secure jobs were few and far between. Undaunted by the dismal economy and inspired by a vote of confidence loan from their parents, two spunky brothers – 20 year-old Prestley Blake and 18 year-old Curtis Blake – opened a modest neighborhood ice cream shoppe. The young entrepreneurs named their business "Friendly" with the intention of providing warm, caring, neighborly service to all who visited their new enterprise. The only menu item was a double dip ice cream cone, which cost 5 cents.
Explore America
Fields of beautiful Marigolds in California
Richard Nixon Inauguration - January 20, 1969
DAVID SUSSKIND - Called one of the most important cultural figures of the 50's, 60's, and 70's
DAVID SUSSKIND Called one of the most important cultural figures of the 50's, 60's, and 70's, David Susskind is considered a key player in the development of television shows. Beginning his career as a talent agent, the Harvard educated Susskind successfully became a pioneer in radio, television, film and theater. The maverick TV producer and talk show host/moderator was known for his keen intelligence. He is credited with bringing quality and controversial material to radio, television and film. In 1958, he took the reins as a New York radio talk show host on Open End. The show began at 11 p.m. every night and would not end until the participants ran out of things to say. Eventually Open End was adapted to television and broadcast on Sunday nights as the two-hour talk show program The David Susskind Show that was highly regarded for its stimulating guests and controversial topics. Susskind's most heated exchange occurred when he interviewed Soviet leader Nikita Khrushchev at the height of the Cold War in 1960. Through his long career as a talk show host, Susskind covered many hot-button issues including race relations, gay rights, and the Vietnam War. Among the many programs he produced, Susskind is credited with bringing many literary works to television such as Death of a Salesman, Look Homeward Angel, and feature films including A Raisin in the Sun, and Alice Doesn't Live Here Anymore. Throughout his career, David Susskind won 27 Emmy's and 3 Peabody awards.
CLASSIC NATIONAL GEOGRAPHIC IMAGES
Alaska Fishermen
Cape Cod Lifeguard
Churchill Downs
Harpers Ferry
Maine Lobsterman
Alaska Fishermen
Cape Cod Lifeguard
Churchill Downs
Harpers Ferry
Maine Lobsterman
Documentary of the Day
John Steinbeck Voice of America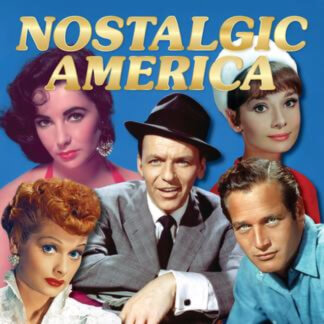 Collectible Editions
You have a choice of three versions of our collectible edition to select from. 52-pages, 100-pages (special oversized edition) and our 104-page version (hard cover). Enjoy your stroll down memory lane!
Learn More »
Looking for More?
Fret not, we've got more! Pick a category below to see what we've got.