Photo of the Day
Little League ... THE BEST!
Americana
Cars parading past diners at the Standard Motor Company's
convention luncheon in Coventry.
Henry Ford's assembly line - changed the industrial philosophy in America
Henry Ford was 40 years old when he founded the Ford Motor Company in 1903 with $28,000 in cash from twelve investors. During its early years, the company produced just a few cars a day at its factory on Mack Avenue in Detroit. In 1908, the Ford company released the Ford Model T. and moved production to the much larger Highland Park Plant to keep up with the demand. By 1913 Ford introduced the world's first moving assembly line, which reduced chassis assembly time from 12 hours to 2 hours, 40 minutes. These innovations were not popular and turnover of workers was very high. Because of this, Ford Motor Company pioneered the minimum wage and the 40 hour work week in the United States. Ford also invented the system of franchised dealers who were loyal to his brand name.
Sebring, Florida home the the 24 Hour of Sebring race
Explore America
Broadway in Times Square - New York City
Dick Clark appears on the television show This Is Your Life
American Bandstand with Dick Clark Philadelphia, PA Premiers locally on July 9, 1956 American Bandstand announced that clean-cut 26 -year old Dick Clark will become the new host. Locally produced now, it will soon air it's first national show in 1957. The regulars on Bandstand, Kenny Rossi, Arlene Sullivan, Bunny Gibson, Eddie Kelly, Pat Molittieri, Carmen Jimenz, and Joyce Shafer are not paid actors or dancers. They are real kids from Philly, and if you watch every day, you can tell who is breaking up and who is making up.
Golfing Buddies
Bing Crosby and Bob Hope
Frank Sinatra
Jack and Tiger
Bing Crosby
Katherine Hepburn
Bing Crosby and Bob Hope
Frank Sinatra
Jack and Tiger
Bing Crosby
Katherine Hepburn
Documentary of the Day
America's Wild Mustang - Untamed Legacy PBS Documentary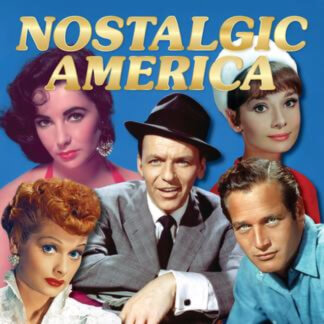 Collectible Editions
You have a choice of three versions of our collectible edition to select from. 52-pages, 100-pages (special oversized edition) and our 104-page version (hard cover). Enjoy your stroll down memory lane!
Learn More »
Looking for More?
Fret not, we've got more! Pick a category below to see what we've got.