Clip of the Day
MASH THE MOVIE - THE TRAILER - Starring: Donald Sutherland, Elliott Gould, Jo Ann Pflug, Robert Duvall, Sally Kellerman, Tom Skerritt
Entertainment
Here is an intro from the popular 1970s TV series of Wonder Woman starring Lynda Carter
Bob Dylan and The Band - The Basement Tapes - The Legendary Tales
Yankee Doodle Dandy Movie starring Jimmy Cagney
Yankee Doodle Dandy 1942 One of Hollywood's greatest, grandest and slickest musicals. The nostalgic, shamelessly-patriotic, entertaining film also supported the war effort as it paid tribute in its mostly fictional story to a popular Irish/American entertainer and the grand American gentleman of the theatre in the early 20th century. The timeliness of its release, just after the attack on Pearl Harbor in late 1941, helped the 'propaganda machine' of going to European battlegrounds overseas with a song that was a rousing theme song written years earlier for WW I - Over There. And a second song, You're a Grand Old Flag, contributed to morale-boosting, flag-waving patriotism and love of one's country. Yankee Doodle Dandy is a lively, sensational and dynamic film with a superb performance by the high-pitched and energized James Cagney. The film tells the musical rags-to-riches life story and times of early 20th century entertainment legend George M. Cohan, from vaudeville through to his later success on Broadway.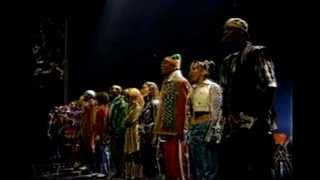 RENT cast performs and is introduced at the Tony Awards in 1996
Queen - Bohemian Rhapsody (Live Aid 1985)
2001: A Space Odyssey
2001: A Space Odyssey premiered in 1968 and is considered to be an epic science fiction movie. It was produced and directed by Stanley Kubrick. It is a story of evolution. Sometime in the distant past, someone or something nudged evolution by placing a monolith on Earth (presumably elsewhere throughout the universe as well). Evolution then enabled humankind to reach the moon's surface, where yet another monolith is found, one that signals the monolith placers that humankind has evolved that far. Now a race begins between computers (HAL) who "seems human" and has full control over their spaceship and two astronauts (Dr. Dave Bowman played by Keir Dullea and Dr. Frank Poole played by Gary Lockwood) to reach the monolith placers. The winner will achieve the next step in evolution, whatever that may be.
Movie of the Day
Movie - Monkey Business - starring Cary Grant, Ginger Rogers, Charles Coburn, and Marilyn Monroe - 1952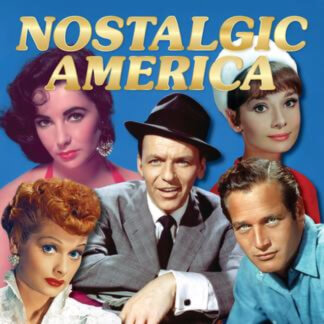 Collectible Editions
You have a choice of three versions of our collectible edition to select from. 52-pages, 100-pages (special oversized edition) and our 104-page version (hard cover). Enjoy your stroll down memory lane!
Learn More »
Looking for More?
Fret not, we've got more! Pick a category below to see what we've got.